Beatshift Correction
You can find Beatshift Correction in the top menu bar Utility ➡ Other
Converting your library causes cue points and beatgrids to shift on some files that are encoded in a certain way. Every DJ software treats these uncommon files differently. This problem looks something like the below waveform.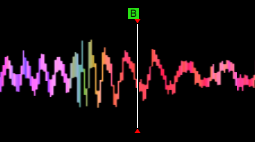 This problem may occur after importing from a DJ app or when converting to a DJ app.
If you encounter this in any of your tracks, you should run this tool and re-run the sync or import.
This problem was discovered and researched by Pedro Estrela, you can find more technical information about this problem here.