Lexicon is a completely new tool in your arsenal. It is supplemental to your favorite DJ app and works neatly together with it. But what is the best way to use it?
In this article, I will explain the intended workflow for adding new music, preparing it and getting it into your DJ app.
Central Library Manager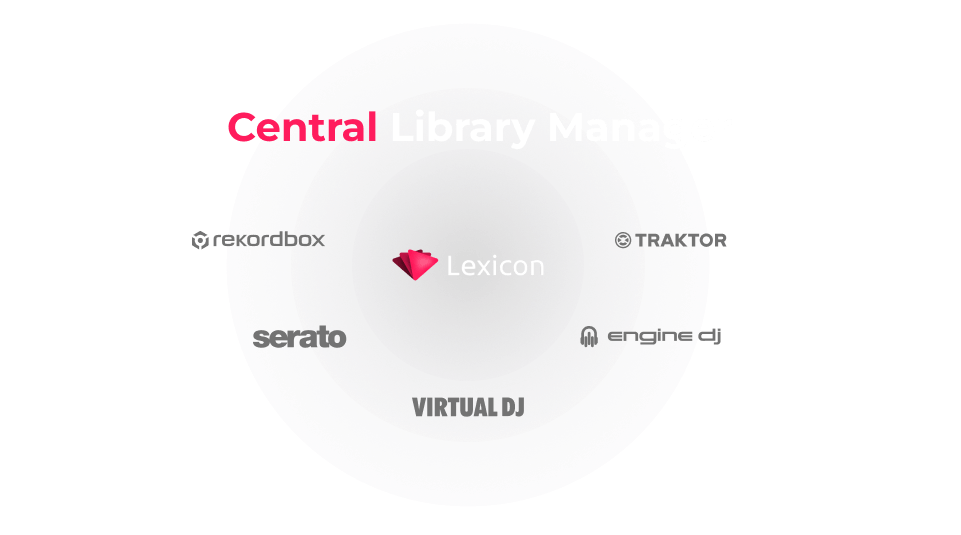 Lexicon is a Central Library Manager. It is the application where you manage your library in one place, instead of in multiple DJ apps or iTunes. Keeping tracks and playlists in sync manually is part of the past.
Old Workflow: iTunes
One of the old workflows is using iTunes to manage your tracks and playlists. You would add your tracks in iTunes, create your playlists and import those into your DJ app. Then add cue points and DJ related information inside the DJ app.
This workflow has some major drawbacks:
DJ related info is only in the DJ app, but not in iTunes.
You can't create playlists in the DJ app and get them in iTunes.
iTunes isn't made for DJs and has no DJ related tools.
Lexicon takes iTunes out of the equation. All your music preparation work can be done in Lexicon and you can use it as a music player for your DJ music too.
Take a look at the steps in the Lexicon workflow below and see if you think that is an improvement.
Old Workflow: Multiple DJ Apps
Whichever DJ app you prefer, industry standard or not, there is always a chance you will be confronted with a setup that is not compatible with your favorite DJ app. That's why a lot of DJs carry multiple USB sticks for multiple gear setups.
In this old workflow, there is always a base DJ app. This could be Rekordbox, Traktor, Serato, VirtualDJ or Engine DJ. This comes down to preference, but that one is the main library. The main library is the library where all changes occur in, where playlists are created and updated, etc. When getting ready for a gig, the main library is converted to any of the other DJ apps using a library converter (Lexicon does this of course!) like the old Rekordcloud.
This old workflow also has some major drawbacks:
Editing is only possible in the main library. Changes in other libraries are overwritten.
It's not always possible to convert all information.
In a way, using Lexicon is similar to this approach. The difference is that Lexicon was designed with this approach in mind, so it has tools to make sure all your data is available in any DJ app, even if that DJ app does not fully support it.
The Lexicon Workflow

The short version of the Lexicon workflow is this:
Manage your library, tracks and playlists in Lexicon..
Sync Lexicon to your favorite DJ app.
All done - start mixing!
Managing your library in Lexicon gives you access to all the tools and integrations that Lexicon offers. They can be used directly on your tracks and playlists (e.g. the duplicate scanner) to make it as easy as possible to use these tools. Without managing your library in Lexicon, you would have to use all kinds of external tools that don't integrate in your library at all, making it much more difficult.
Adding Tracks
You can add tracks to Lexicon in several ways.
Drag and drop
Import from DJ apps or iTunes
Automatically with the watch folder
With drag and drop you simply drag your files from your computer in Lexicon and they'll be imported.
Importing tracks from a DJ app will copy the playlists and tracks from your DJ app into Lexicon. Since you already have a DJ library with playlists, cue points and everything, you don't want to lose this. That's where importing comes in. Import from your DJ app and Lexicon will show the same tracks and playlists, so you can get started right away. You can even merge multiple libraries this way. If you ever had playlists in several DJ apps, Lexicon can very easily merge them into one library.
The watch folder is the fun part and a really great addition to an optimized workflow. With the watch folder, you can watch a folder on your computer and any music file will automatically be imported into your library. Super easy to make your downloads folder your watch folder. Combine that with the target folder (a watch folder setting) and your tracks will automatically be moved and renamed. For example, you could tell Lexicon to do something like Downloads/daft_punk_get_lucky.mp3 into DJ Music/Pop/Daft Punk/Get Lucky.mp3. This process is fully automatic.
Preparing Tracks
Track preparation is where Lexicon truly shines. This is what Lexicon was made for. You can do any kind of track preparation that you are used to as a DJ.
Setting beatgrids and cue points.
Creating playlists and smartlists.
Setting the energy, popularity, danceability and happiness of your tracks.
Adding completely custom tags to your tracks.
Any time you want to do anything with your library, except mixing, you should do it in Lexicon.
Incoming
I've already briefly explained the watch folder above. Tracks that are found in your watch folder, will be placed on your Incoming list. The incoming list is basically a DJ todo list for music. You can browse the incoming list and edit your tracks until you are satisfied. You can do anything on the incoming page, like adding cue points, fixing your track titles, adding custom tags or add tracks to playlists. When you are done, you mark those tracks as "Done" by pressing the button. At that point, those tracks are no longer incoming tracks, but just normal tracks in your library. If you had set up a target folder earlier, they are also moved there.
Syncing Libraries
When you are done preparing tracks, and you want to start mixing, all you have to do is Sync your Lexicon library to your favorite DJ app. Syncing copies all your track and playlist information and puts it into the DJ app of your choice. The end result is that you will have identical playlists and tracks in your DJ app.
Syncing is made to be super easy. Just pick your DJ app and press the sync button. You can also choose to only sync certain playlists.
Optionally, you can set up Field Mappings. These help you with fields that your DJ app does not know about. For example, the Energy field is unknown to all DJ apps. But with a field mapping, we can copy it to the Comment field. This works for any field that is unknown to a DJ app, so you can always get your data out of Lexicon and into your DJ app.
Power To The DJ!
Lexicon is designed to give power back to the DJs. There is a lot to learn with Lexicon, but the power you get from it is worth the effort.
More articles and videos will follow. Keep an eye on this blog or any of our socials to stay in the loop.