The Mixable Tracks feature in Lexicon DJ is a designed to help DJs find and select tracks that can be mixed together during performances. This blog explains how Mixable Tracks in Lexicon works:
Finding Mixable Tracks
Right-click on any track and choose Use -> Find Mixable Fracks. A popup will appear with the default settings:
Click "Generate" and Lexicon will show you a list of tracks that match the first track. With the default settings, it will suggest tracks with a 3% BPM differnce and a matching harmonic key. That's the very basic way to find mixable tracks, but you can go much further with the rest of the settings. More on that below.
Performance
You can use Mixable Tracks during a live performance. Every time you choose a new track, click "Use as next track" and you will get a new list of suggestions based on your last chosen track. Keep going like that while you perform.
You can change the mix rules at any time.
Library Tuning
The key to Mixable Tracks is a well tuned library. You can add a lot of information to your tracks like rating, color, energy, danceability, custom tags and more. All that information can be used in Mixable Tracks so you can get really crazy when you want to find a very specific set of tracks.
Here's an example when I want to find my harder drum & bass, that was recently added to my library, with cue points and without vocals:

If you like the results that Mixable Tracks gives you, you can save it as a playlist. That way you can send a pre-made playlist to your DJ app and play it from there. So Mixable Tracks is good for your prep work too.
Templates
With all these settings, you don't want to keep re-doing them. That's where templates come in. All your settings can be saved to a template with just a click. This is perfect if you switch between genres often.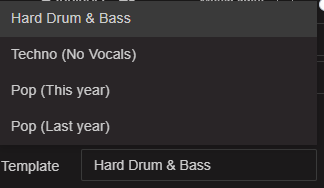 Faster Mixing
Mixable Tracks really lets your well-organized library shine. The more time you spend preparing your library, the less time you need to find that perfect track. This is for those practical DJs out there!